Chocolate Hazelnut Stone
Chocolate Mudcake
Process
Whip PALFFY 780LTU, Cream Cheese and Sugar till smooth.
Add Egg and continue mixing till fully incorporated.
Add Cake Flour, Baking Powder, salt and lastly Cocoa Powder. Mix well.
Pipe dough on tray and smooth it out.
Bake at 170℃/170℃ for 35 minutes.
Caramelised Hazelnut Praline
| | |
| --- | --- |
| | g |
| Sugar | 270 |
| Roasted Hazelnut | 150 |
| Corn Oil | 30 |
Process
Cook half amount of Sugar, keep stirring and add the other half. Cook until caramelised.
Add Roasted Hazelnut in pot, stir. Remove from heat and transfer to a tray and let it cool for about 2 hours in room temperature.
Break into parts and use food processor to grind the caramelised hazelnuts.
Add Corn Oil into food processor and continue mixing till smooth.
Pipe Praline into half sphere silicone mould of 2cm diameter x 1cm height.
Freeze for 3 hours.
Ganache
Process
Boil TOPPING ACE 500 (Cream), add Gelatine Sheet and melt it.
Pour boiled mixture into WHITE COMPOUND CHOCOLATE(Chopped) and DARK CHOCOLATE, stir well and make sure chocolates are melted.
Fold in TOPPING ACE 500 (Whipped) and mix well.
Pipe Ganache in round stone shaped mould of 4.5cm diameter x 2.5cm height.
Add frozen Praline, pipe more Ganache and flatten the top. Freeze for 3 hours. Making Ganache+Praline combo.
Almond Sable
| | |
| --- | --- |
| | g |
| Cake Flour | 360 |
| Icing Sugar | 140 |
| Almond Powder | 50 |
| PALFFY 780LTU (Chilled) | 180 |
| Egg | 50 |
Process
Pour Cake Flour, Icing Sugar and Almond Powder into mixer and stir in low speed.
Add chilled Margarine (PALFFY 780LTU) and continue mixing.
Add Egg and mix till there is no lumps.
Roll dough out and put in chiller for 3 hours to set.
Cut out the dough with round mould of 6cm.
Bake at 170℃/170℃ for 15 minutes.
Nutty Coating
Process
Microwave Corn Oil and DARK CHOCOLATE for 2 minutes to melt.
Add Almond Nibs and stir to mix well.
Caramel Glacage
Process
Boil Water and Glucose to make Glucose Syrup.
Cook and caramelise Sugar. Add Glucose Syrup in and boil the mixture to make Caramelised Syrup.
Microwave WHITE COMPOUND CHOCOLATE for 90 seconds to melt.
Add soaked Gelatine Sheet and Condensed Milk to WHITE COMPOUND CHOCOLATE (Melted). Pour boiled Caramelised Syrup, stir well to melt the mixture until smooth.
Filter the Caramel Glacage and keep at temperature of 28℃-30℃.
Decoration
| | |
| --- | --- |
| | |
| Desiccated Coconut | |
| Diced Mudcake (Coated in shiny powder) | |
Assemble
Place Almond Sable, prepare for assemble.
Cut Chocolate Mudcake using 4.5cm round mould. Dip in the Nutty Coating and make sure to cover the sides. Remove excess and place on Almond Sable.
Pour Caramel Glacage on Ganache+Praline combo. Dip it in Desiccated Coconut and add on top of mudcake.
Lastly, place Diced Mucake (coated in shiny powder) on top as decoration.
Products Used for This Recipe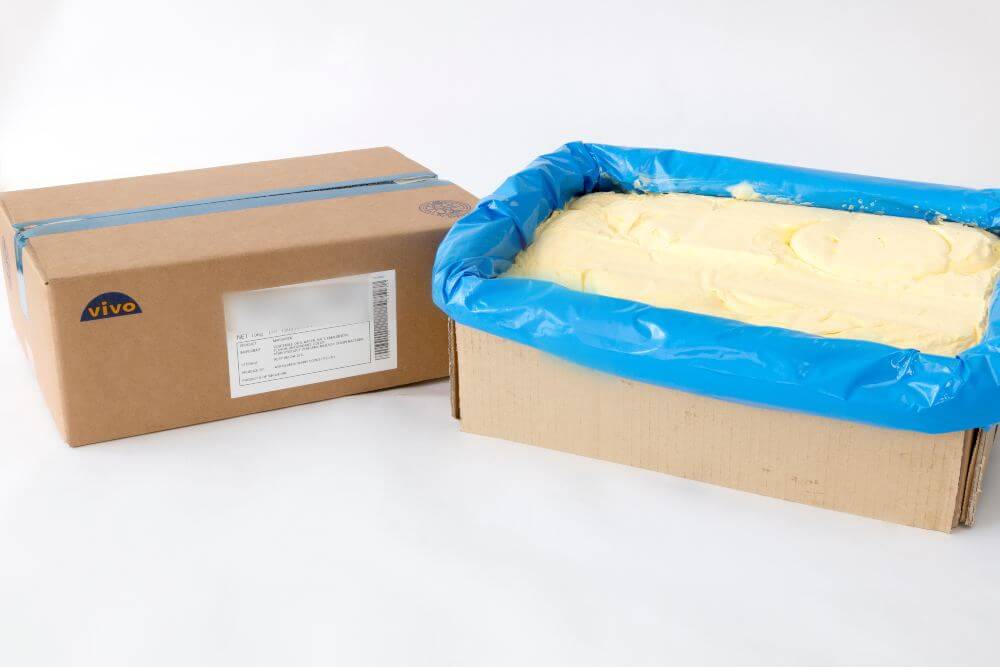 PALFFY 780LTU
Compound margarine with rich buttery taste which melts in your mouth with high overrun.
Packing: 15kg
Storage: 3℃-7℃
Shelf Life: 240days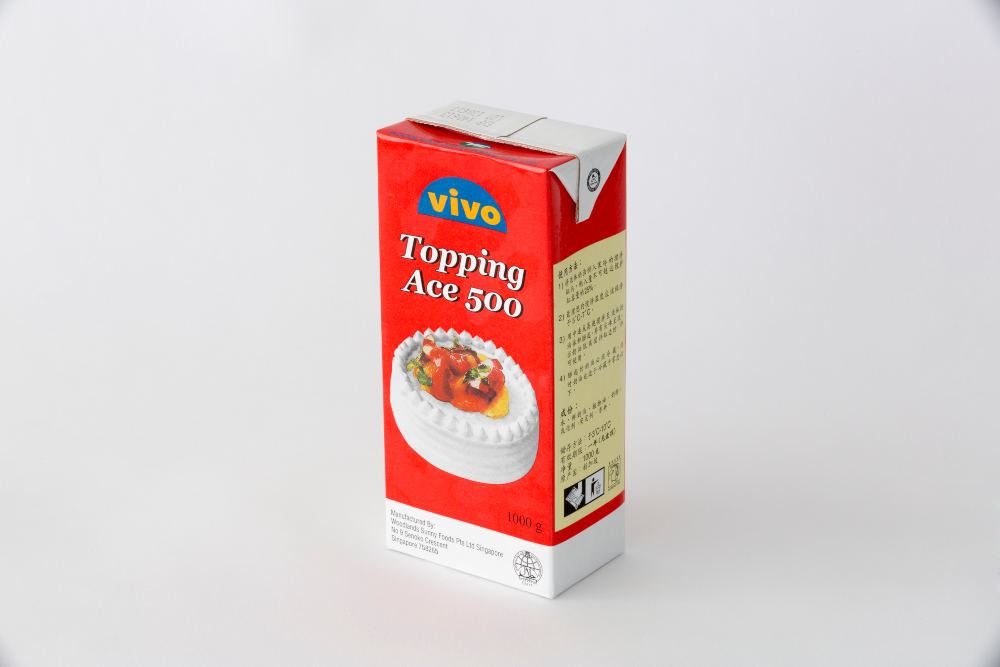 TOPPING ACE 500
High-grade dairy compound whipping cream with natural creamy taste and good mouthfeel.
Packing: 1000g*12
Storage: 3℃ – 7℃
Shelf Life: 365days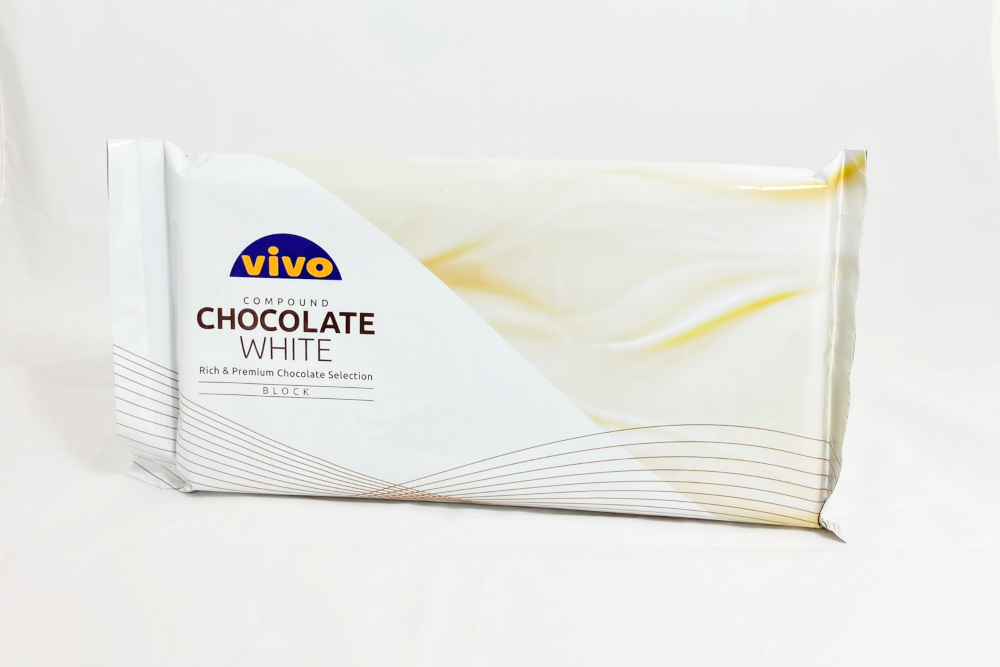 WHITE COMPOUND CHOCOLATE
Easy-to-handle compound chocolate without the need for tempering.
Its milk and vanilla flavour goes with various confectionaries, breads and cakes.
Packing: 1kg*10(block)
Storage: 20-24℃
Shelf Life: 365days(12months)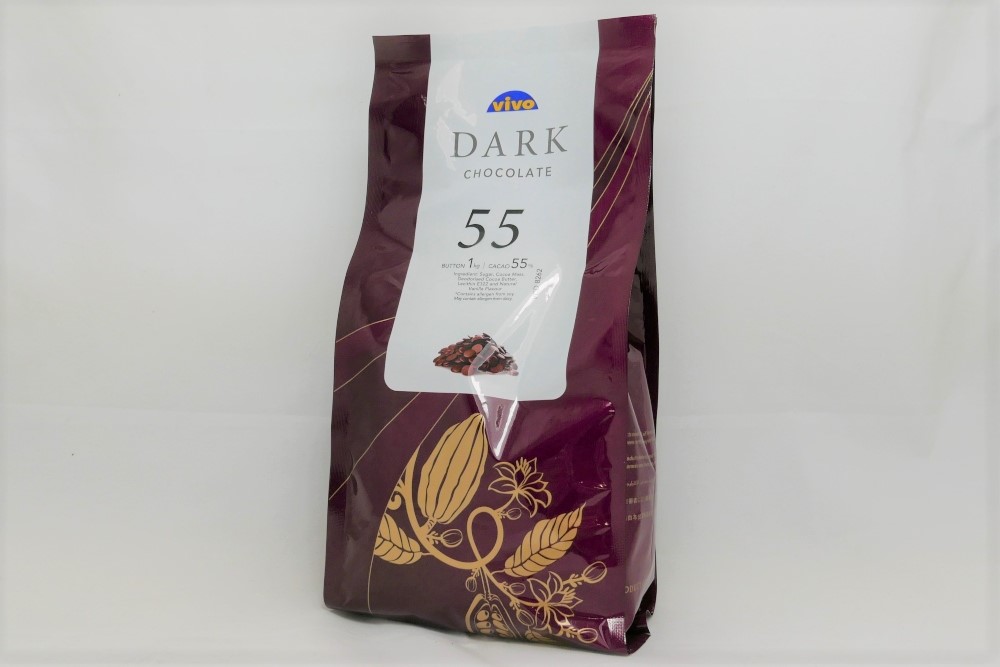 DARK CHOCOLATE
Couverture chocolate with 55% cocoa content. It is suitable for moulding, enrobing and ganache.
Packing: 1kg*10
Storage: 20- 24˚C
Shelf Life: 16 months

Contact Us for More Information